Hours have been a little slow at work for the last month, so I've been taking 3 days off a week. It's nice but I get really bored some days.
Today I tried working on some songs for the next EP which will also serve as songs I can play in quieter situations. But my 4 track is being weird right now, every time I hit play or record or pretty much anything to do with the tape deck it has a loud hum. I'm not sure if it's because of the new power adapter I got the other day or if I need to get a head cleaner for it. I'll have to check ebay for a 3 Head tape cleaner.
So needless to say I never recorded anything, and I really didn't feel like bringing the laptop down and setting up a Pro Tools session just for me to fuck around with.
While I was in the basement I realized I haven't put away any of the CDs I've bought between early November and most recently last Saturday. They've been piling up in the basement, my bedroom, and the living room. After spending two hours moving everything around it seems that I either need a third book shelf or I have to move the shelves around so that I can fit the one row I took off of each to make it what it is now.
The only draw back to doing that, is some of the CDs I have that come in abnormal sized Digipacks or boxs won't fit so I would have to set them on top or something.
current shelves: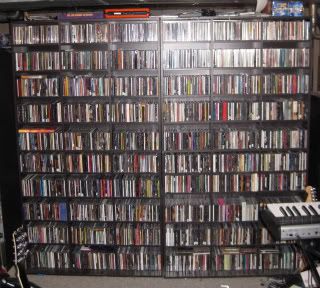 Speaking of buying CDs last Saturday. Thurston Moore was checking out vinyl and used DVDs at Princeton Record Exchange while Britten and I were there. Pretty rad.
WITTR 12" came the other day, still wish I didn't impulse buy it online. I also got Low's "Secret Name", "Things We Lost In The Fire", "Songs For A Dead Pilot" "In The Fish Tank Series" & "The Great Destroyer" on vinyl. Again these were impulse buys once I found out Kranky had repressed them. The only one in print that have yet to get is "Trust" which maybe I'll get when I get paid again on Friday.